Overview
thumb|left|326px|link=Hungry Hungry Hippos is a tabletop game made for 2–4 players, produced by Hasbro, under the brand of its subsidiary, Milton Bradley. The idea for the game was published in 1967 by toy inventor Fred Kroll and it was introduced in 1978. The objective of the game is for each player to collect as many marbles as possible with their 'hippo' (a toy hippo model). The game is marketed under the "Elefun and Friends" banner, along with Elefun,Mouse Trap and Gator Golf. The game was referenced in the 2010 Disney Pixar movie, Toy Story 3 and the 2001 cult film Donnie Darko.
How to Play
The game board is surrounded by four mechanical, colorful, plastic hippopotamuses operated by levers on their back.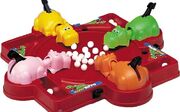 When the lever is pressed, the hippo opens its mouth and extends its head forwards on a telescopic neck. When the lever is released, the head comes down and retracts. Colored plastic marbles are dispensed into the board by each player, and the players repeatedly press the lever on their hippo in order to have it "eat" the marbles, which travel down from under the hippo into a small scoring area for each player. The game continues until all marbles have been devoured, and it's then that a winner is decided depending on the player with the largest amount acquired.
Revisions or Expansions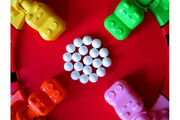 There were four hippos in the original version of the game: Lizzie Hippo (purple), Henry Hippo (orange), Homer Hippo (green), and Harry Hippo (yellow). In some versions of Hungry Hungry Hippos, Henry is replaced by a blue hippo of the same name. A later edition of the game replaces the purple hippo, Lizzie, with a pink one named Happy. The fall 2009 North American edition of the game has a lighter blue base with pastel colored versions of the Hippos: Sweetie Potamus (pink), Bottomless Potamus (yellow), Veggie Potamus (green), and Picky Potamus (orange). In the 2012 version, Sweetie Potamus was made blue and Picky Potamus was renamed "Hungry Hippo".
Links and References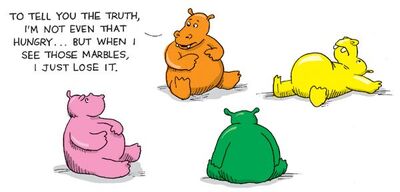 Community content is available under
CC-BY-SA
unless otherwise noted.