Overview
The game revolves around the gag of getting a pie in the face. There is a mechanical device with an arm that holds a sponge that you cover with shaving cream to simulate the pie. On your turn you place your face in the target area of the device, spin the spinner and twist the handle that number of times. Much like a slot machine you never can be sure when the payoff will come. You then score points for the number you spun if you don't get the pie in the face.
How to Play
The exciting Hasbro Pie Face Game is filled with fun and suspense, and somebody's bound to get splatted. It is
definitely something that you want to play with a few friends or family. Just put some delicious whipped cream from home or the wet sponge on the "hand" of this Hasbro game. Then you start turning the handles. It could go off at any time. Just keep your fingers crossed and hope you're not the one who gets a splat in the face from this rocket game. You score a point for every time you turn the crank without getting hit. The one who scores 25 first wins. Take some risks and hope for the best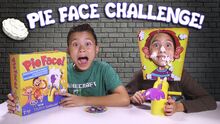 in this hilarious Hasbro Pie Face Game. This product requires some assembly from the package. It is made for ages 5 and up, and it wipes clean with a wet towel or rag.
Links and References